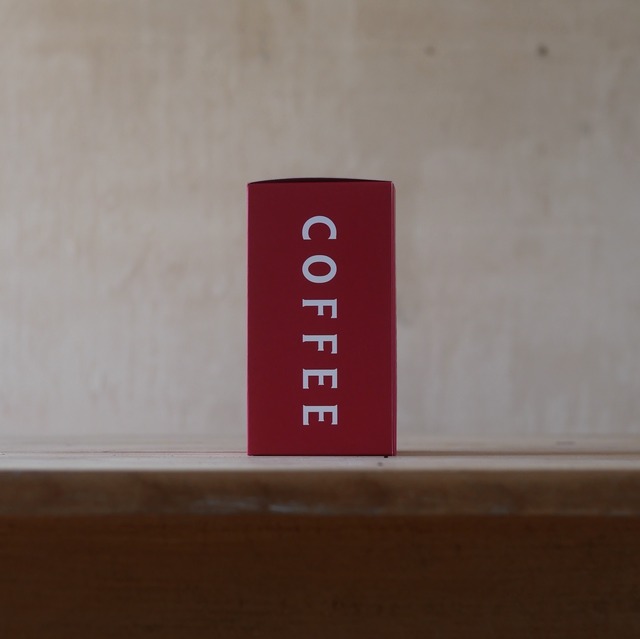 ブレンド MOTHER (カフェインレス) 200g BOX / W&H COFFEE
*Earliest delivery date is 4/7(Fri) (may require more days depending on delivery address).
Shipping fee is not included. More information.
◯ BLEND "MOTHER" (※decaf) 200g BOX
 (.....English follows)

W&Hを始めるさらに6年前のこと、僕らの間に娘が生まれた。
妻は新米の母になり、僕は新米の父になった。
ちょっとのことで喜び、何でもないことで心配し、娘中心の生活が始まった。
それまで2人で丁寧に暮らすことに心地よさを感じていた生活は大きく様変わりした。
娘はとびっきりの喜びを僕らに運んできてくれたけれど、子育ては大変なことだっていっぱいで、やらなきゃならないことも待った無しで、仕事で家を空ける僕よりも、妻はより自分の時間を娘に、家族に、費やしていた。

その頃妻は言っていた。
毎日10個やりたい事があったとして、2個出来たら良い方だと。
その10個のやりたい事だって、自分自身の娯楽みたいなことなんかではなく、丁寧にご飯を作りたいだとか、散らかっているのを片付けたいだとか、家族が心地よく過ごせるようなことだったりする。
そんなゆとりの無い毎日では、コーヒーを一杯飲む時間が取れるだけでも、やりたい事の1個になり、癒しの時間になる。そして、また頑張れる。

でも、授乳中のお母さんは考える。
カフェインが入っているのでコーヒー飲まないという選択をするお母さんがいる。
一日に一杯だけならと制限して飲むお母さんもいる。
他の飲み物で気を紛らわせるお母さんもいる。
どこか後ろめたさのようなものを感じながら飲むお母さんもいる。
どんな選択が正しいのかなんて僕にはわからない。
ただみんな、一旦立ち止まって自分の考えをまとめて、コーヒーと折り合いをつけながら暮らしている。
そんな心配事や後ろめたさなんて全部放り投げて、気兼ねなく気分転換できる時間を届けたいと思った。

たった一杯のコーヒーが至福の息抜きの時間になるのであれば、何にも気にせず好きなだけ飲んでも大丈夫な美味しいコーヒーを、これからのお母さんに届けるのが僕の一つの使命ではないかと。

カフェインレスのコーヒーで、カフェインレスだから味がイマイチでも仕方ないなと妥協するのではなく、むしろこれがカフェインレスなの?とびっくりするぐらい美味しいコーヒーを作りたいとずっと思ってきました。
納得のコーヒー豆をお届けできるまで構想から5年ぐらいかかりましたが、やっとお披露目いたします。

名前は「MOTHER」。
ブレンド「DAUGHTER」が「LADY」になり、そして「MOTHER」になるイメージで生み出しました。
「DAUGHTER」にブレンドされているブラジル、コロンビア、エチオピアの3種全てにデカフェの生豆を使ったカフェインレス版の「DAUGHTER」です。
(※スイスウォータープロセスによりカフェインを99.9%除去した生豆を使用しています。)

授乳中・妊娠中の方にはもちろんの事、カフェインを摂ると夜寝付けない方や、コーヒーは刺激が強すぎると感じる方にもおすすめです。

//////////////////////////

※箱入り装丁の商品は、出来るだけコーヒー豆の鮮度を保ったままお届けするために、ガス抜きバルブ付きの袋に脱酸素剤を封入しております。ご自宅用はもちろん、贈り物としても最適です。

【発送スケジュールについて】
ご入金の確認後、一週間以内に順次ご発送いたします。

------------------------

○ BLEND "MOTHER" ※decaf 200g BOX
  Limited time: April 15th 2021- May 16th 2021
・Roast level : Dark

Six years before we started W&H, we had a daughter. My wife became a new mother and I became a new father. We were delighted and worried about the little things, and our daughter-centered life began. Our lives, which until then were comfortable for us to live politely, have changed dramatically. Our daughter brought us tremendous joy, but parenting was a lot of work. More than I leave home for my work, my wife was spending her own time on our daughter, on our family.

At that time my wife said, "I have 10 things I want to do every day, but if I can do just 2, that's fine." The 10 things she wants to do aren't for her own entertainment, she wants to cook our meals politely, she wants to get rid of the clutter, and our family feels comfortable. Something like that. In her daily life, where she can't afford it, just having time to drink a cup of coffee becomes one of the things she wants to do, and it becomes a healing time. And she can do her best again.

But breastfeeding mothers think. Some mothers don't drink because coffee contains caffeine. Some mothers drink only one drink a day. Some mothers are distracted by other drinks. Some mothers drink while feeling something like guilt. I don't know which choice is right. However, everyone lives by summarizing their thoughts and making arrangements with coffee. I wanted to give mothers a time to relax without hesitation.

If the time to drink just one cup of coffee is a blissful break, one of my missions is to deliver delicious coffee that mothers can drink without worrying about anything to future mothers.

I've always wanted to make amazingly delicious coffee, rather than compromising that the taste isn't good because it's decaffeinated. It took about 5 years from the conception, but we will finally announce it.

The name is "MOTHER".
I created it with the image that the blend "DAUGHTER" becomes "LADY" and then "MOTHER". It is a caffeine-less version of "DAUGHTER" that uses decaffeinated raw beans for all three types of Brazil, Colombia, and Ethiopia that are blended with "DAUGHTER". (* We use raw beans from which 99.9% of caffeine has been removed by the Swiss water process.)

It is recommended not only for those who are breastfeeding or pregnant, but also for those who cannot sleep at night after taking caffeine and those who feel that ordinary coffee is too irritating.

The sale period is from April 15th to May 16th. WEB SHOP will accept pre-order sales from April 11th today.
* Pre-order sales cannot be ordered together with other products. Therefore, if you wish to bundle it with other products, please place an order after April 15th.

/////////////////////////

※Box-type products contain oxygen scavenger in a bag with a degassing valve to keep the coffee beans fresh. Effective for medium- to long-term storage.

※Shipping will be dealt with in seven days. And we cannot accept delivery date requests.
Shipping method / fee

Payment method