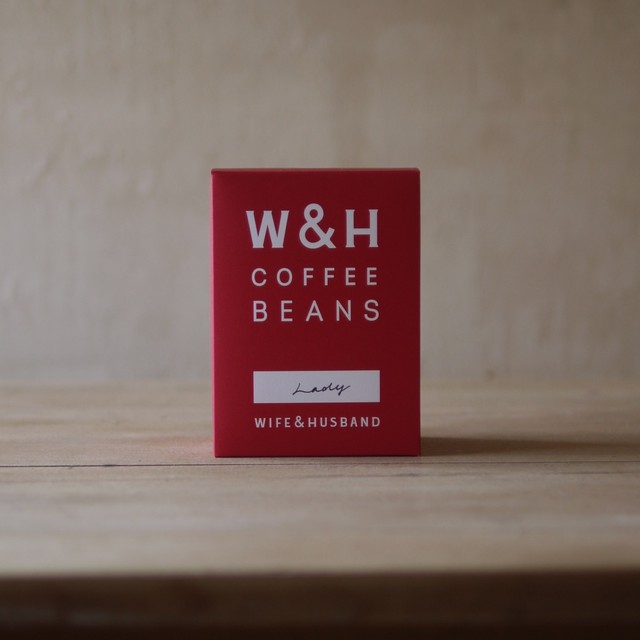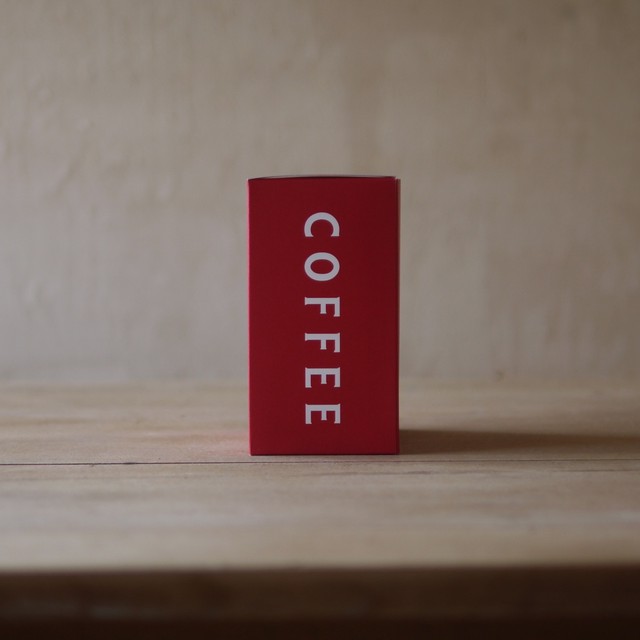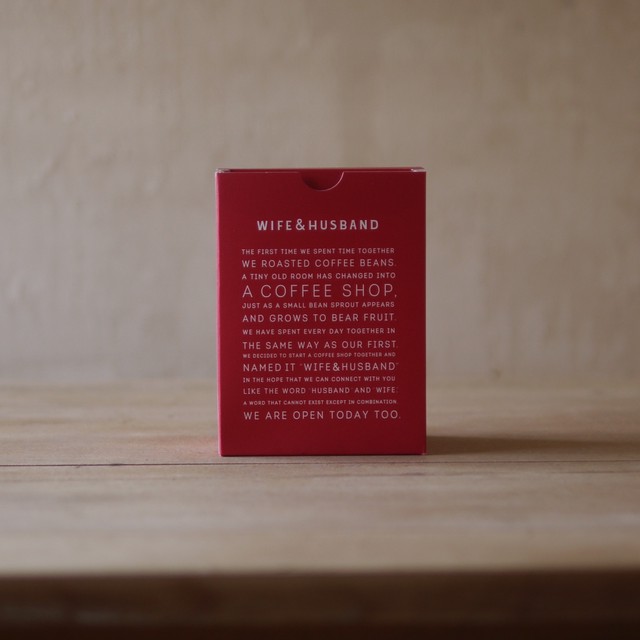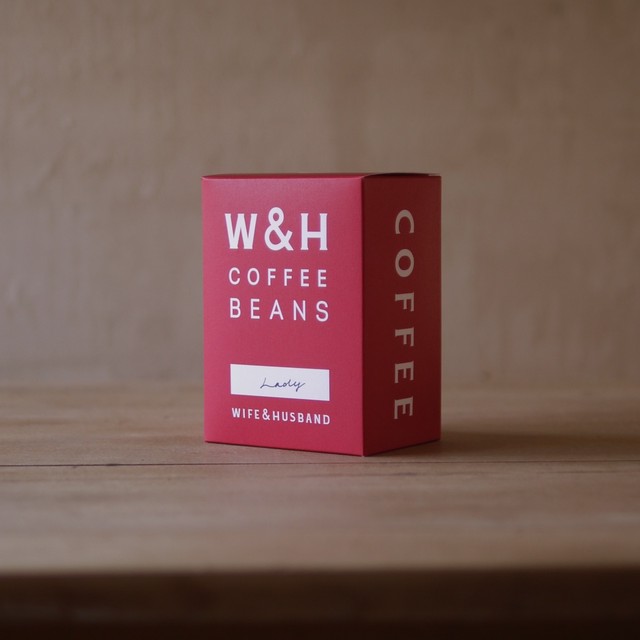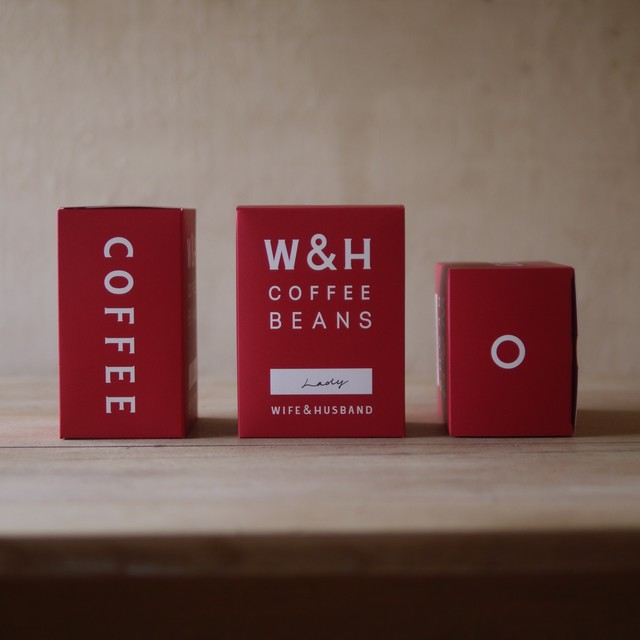 ブレンド LADY 200g BOX / W&H COFFEE
*This item will be delivered on 3/9(Tue) at the earliest.
* Please remember this item is only sold to 03/15/2021 23:59.
Shipping fee is not included. More information.
◯ 期間限定 BLEND "LADY" 200g BOX
 (.....English follows)

もう12年前のこと、僕らが結婚して間もないちょうど今ぐらいの寒い寒い冬の頃、娘が妻のお腹にいることがわかった。それからの数年は特に満ち足りて、輝いていて、美しかった。今思い出してもそう思う。5年半前に、WIFE&HUSBANDの店名を思い付いたのも、初めて僕らが生み出したブレンドにDAUGHTERと名付けたのも、12年前のあの頃の毎日が愛おしかったからだと思う。

つい先日、もう11歳になる娘をふざけて抱っこした。あんなに小さくいつも抱っこ抱っこせがんできていた娘は、とっくに抱っこなんか出来ないぐらいに大きくて、あと僅かで子供の時代が終わることを、両腕に感じた。

何気ない仕草の中に、大人びた表情が見え隠れするようになってきた。子供時代が終わる寂しさと引き換えに、これからどんな素敵な女性になっていくのだろうという楽しみも生まれてきた。

先日の僕らの結婚記念日にちなんだ「MORNING」に続く期間限定ブレンドの第二弾は、僕らの絆を深くしてくれた愛娘のこれからを思い「LADY」と名付けました。

「DAUGHTER」が大人になり、素敵な「LADY」になるのをイメージして。「DAUGHTER」の深煎りだけど優しい飲み口はそのままに、洗練された明るさと華やかさを感じさせるコーヒーに仕上げました。
W&Hでは初登場のケニアの豆をベースに、ブラジルとコロンビアでバランスを整えたコーヒーは、午後のお茶の時間にぴったりの、甘いお菓子との相性良いブレンドです。

//////////////////////////

※2/1より販売開始となりますが、2/1までは予約販売としてご注文を承ります。予約販売は他の商品と同時にご注文頂くことが出来ません。そのため、他の商品との同梱をご希望の方は、2/1以降にご注文下さい。

※箱入り装丁の商品は、出来るだけコーヒー豆の鮮度を保ったままお届けするために、ガス抜きバルブ付きの袋に脱酸素剤を封入しております。ご自宅用はもちろん、贈り物としても最適です。

【発送スケジュールについて】
ご入金の確認後、一週間以内に順次ご発送いたします。

------------------------

○ BLEND "LADY" 200g BOX
・Roast level : Dark

Twelve years ago, it turned out that my wife was pregnant with our daughter in the cold, cold winter, just after we got married for a while. The next few years were particularly satisfying, shining and beautiful. I think so even if I remember now. Five and a half years ago, we came up with WIFE&HUSBAND as the name of our shop. And we named our first blend "DAUGHTER".

Just the other day, I playfully hugged our 11-year-old daughter. Our daughter, who was so small and always forced to be hugged by me, is already too big for me to hug. With my arms I felt that her childhood was about to end.

In her casual gestures, I can find her adult-like look. I miss her childhood ending soon. But I'm looking forward to what a lovely woman she will be.

The second limited-time blend following "MORNING", which is associated with our wedding anniversary, was named "LADY" in consideration of the future of our beloved daughter who deepened our bond.

Imagine that "DAUGHTER" becomes an adult and becomes a wonderful "LADY". The deep roasted "DAUGHTER" has a gentle taste, but the coffee has a refined brightness and gorgeousness. Based on Kenyan beans, which debuted at W&H, the coffee, balanced in Brazil and Colombia, is a perfect blend for afternoon tea time with sweets.

/////////////////////////

※Box-type products contain oxygen scavenger in a bag with a degassing valve to keep the coffee beans fresh. Effective for medium- to long-term storage.

※Shipping will be dealt with in seven days. And we cannot accept delivery date requests.
Add to Like via app
Shipping method / fee

Payment method