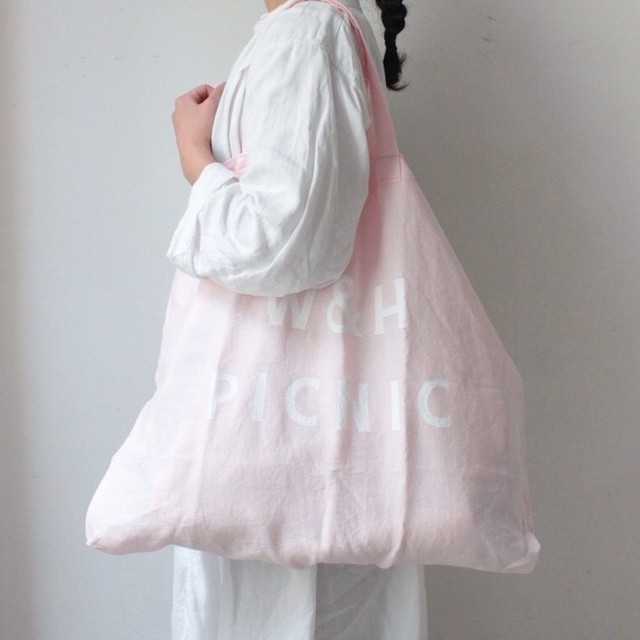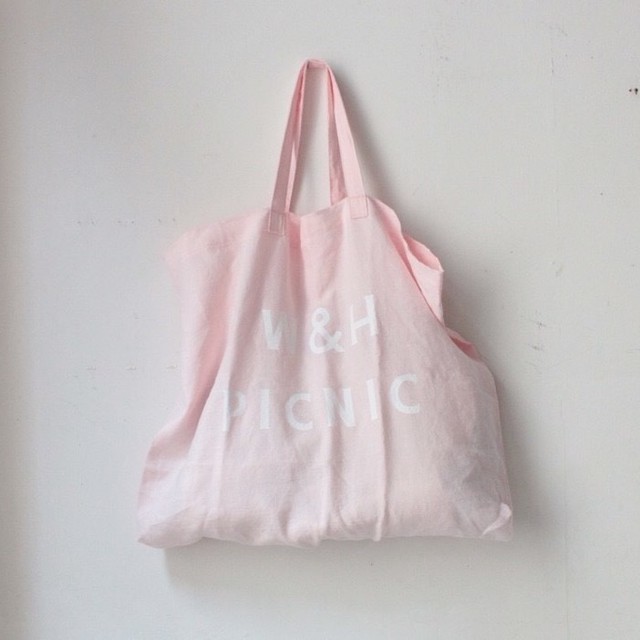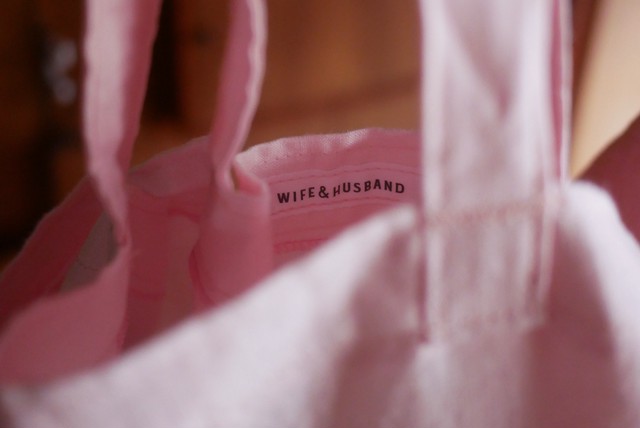 W&H LINEN TOTE / PALE PINK
○ W&H LINEN TOTE
W 60cm・H 46cm・D 3cm(持ち手含まず)
french linen 100%
pale pink
(.....English follows)

///////////////////////////

W&Hのトートバックを作りました。
私達らしいバッグを作りたいと思い立ったのはもう随分前のこと。
完成までに気付けば2年が経っていました。

W&Hのイメージですぐに思いつくので言えば、生成りコットンのロゴバッグや、
W&Hの珈琲豆箱やショッパーのようなネイビーに白字のバッグ。
でも、自分達の持ち歩きたいバッグはそうではありませんでした。

まずは漠然と抱いていたイメージでサンプルを作りました。
そして、素材を変え、大きさを変え、洗いをかけて風合いを確かめ、
幾度もサンプルを作りました。

やっぱり私達はざっくりと大きなのが好きで、
使い込んだリネンのくたっとした風合いが好きで、
持ち手は短めで小脇に収まる感覚が好きで、
色は普段の服装にトータルで似合う色が良くて、
シルエットは立体感がでるように…。
一つずつ確認し、階段を一歩づつ登るように作り上げていきました。

一番苦労したのが生地探し。
頭の中にある、女性を爽やかに美しく、男性を粋に格好良くしてくれる、
桜のような白に近いピンクのリネンがなかなか見つかりませんでした。
知人などの協力を得て、ようやく見つかったと思ったらもうすでに廃番のフレンチリネン生地。何とかお願いをしてW&Hのために作ってもらえることになりました。

こちらのトートバックは桜のように淡いピンク色。
片面に「W&H PICNIC」の文字をあしらいました。
W&Hらしいリネントートです。

//////////////////////////

※この商品はクリックポストでのお届けのため、着日時をご指定頂けません。

【発送スケジュールについて】
ご入金の確認後、一週間以内に順次ご発送いたします。

----------------------------------------------------------------------------------------------------------

○ W&H LINEN TOTE
W 60cm・H 46cm・D 3cm
french linen 100%
pale pink

///////////////////////////

We made a tote bag for W&H.
It's been a long time since we decided that we wanted to create a bag that was unique to us. Two years had passed before we realized it was finished.

If you think of W&H, it's a navy with white lettering, like the unbleached cotton logo bag, the W&H coffee bean box and the shopper. But that wasn't the case with the bags we wanted to carry around with us.

First, we made a sample with an image we had vaguely in mind.
Then we changed the material, changed the size, washed it to check the texture, and made samples again and again.

We like large, loose items, the crunchy texture of used linen, a short handle that fits under your arm, a color that goes well with your everyday clothes, and a silhouette that gives you a three-dimensional look... We checked one by one and built up the stairs one step at a time.

The hardest part was finding the fabric. It was hard to find the pink linen that I had in mind, the one that makes women feel fresh and beautiful and makes men look dapper. We thought we finally found it with the help of acquaintances and others, but it's already out of print. We managed to make a request to have it made for W&H.

This tote bag has a deep gray color like ink. It is the standard linen tote of W&H.

//////////////////////////

※This item is not available for wrapping.

※Shipping will be dealt with in seven days. And We cannot accept delivery date requests.

Add to Like via app
Shipping method / fee

Payment method